Every few months or so, I write an article here about the importance of follow-up. Guess what? It's that time again! Why am I always writing about follow up? Simple, I'm convinced that many of you, my dear readers, aren't following up enough. As a result, I believe you are missing out on sales.
Today's article is a simple tale of a follow-up efforts that lead to a sale. Several weeks ago, the day after we opened our second gallery, a woman walked through the front door of our new location and began exploring. I introduced myself to her and spent a few moments telling her about the gallery and welcoming her to look around. She liked several artist on display, but she zeroed in on a piece that was sitting on the floor near the back of the gallery, waiting to be hung (interest in work not yet displayed happens quite often, but that's a topic for another day).
I told her a little about the piece and held it up in some light for her to better see it. She told me she liked it and had just moved into a new home in Portland, OR and thought the piece would look great in her home. We discussed pricing and negotiated a collector's discount. I offered to write the sale up and ship the sculpture to her, but she demurred, telling me that she needed to measure the space she where she was imagining hanging it, and needed to think about how it would fit in her home.
She asked if she could take a photo of the piece to remember it. I told her she could, but offered to email her a photo of the piece that would include the dimensions and pricing information. She accepted this offer and wrote her contact information on one of our contact cards.
Within a few minutes of her walking out of gallery I fired off this email:
Hi Denise – it was a pleasure meeting you this afternoon! As promised, here is the photo of the piece by Guilloume. If you decide you would like to add it to your collection, I will be happy to take care of the shipping and offer it to you at the price I mentioned, $2600.
Please let me know how I may best be of service.
[Image Follows Signature]
—
Jason
J. Jason Horejs
Owner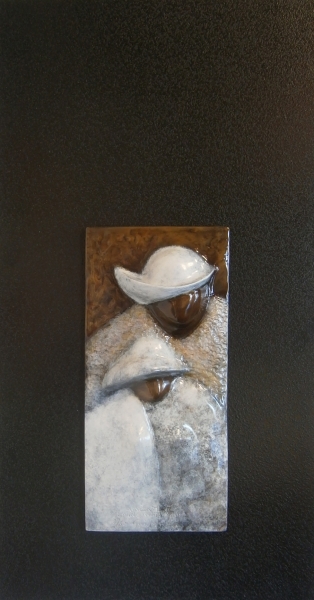 #67304
Adventure
by Guilloume
30″ x 16″
$2,900
After I sent the email, I created a reminder using Boomerang (a plugin for gmail) that would bring the email back into my inbox a week later to remind me to follow up.
I hope that many of you are doing a good job of this kind of initial communication with a client who has expressed interest in a piece. The problem I've observed is that many artists and gallerists let the follow up die at this point. If they don't hear back from the client after that initial email, they allow the interest to fade away.
When I didn't hear back from Denise within the next week, I sent another simple email:
Hi Denise – I just wanted to follow up on my email of last week regarding the piece by Guilloume. If you decide you would like to add it to your collection, I will still be happy to take care of the shipping and offer it to you at the price I mentioned, $2600.
Please let me know how I may best be of service.
[Image Follows Signature]
—
Jason
J. Jason Horejs
Owner
(I included the image again here)
As you can see, there's nothing complicated or fancy about the follow-up. I just wanted to let her know I was still thinking about her and that the piece was still available.
Often, if potential buyers were travelling, getting back home involves playing a lot of catch up and getting settled back in. Art they saw while on vacation moves way down on the priority list. I want to do everything in my power to put the art back on the clients' radar when things have slowed down and they are ready to think about it again.
After sending the second email, I created another reminder to follow up in another week. In the third email, I would have sent a .pdf copy of the artist's biography as well as another image of the artwork.
Fortunately, I didn't have to reach out a third time. Yesterday, Denise called the gallery to purchase the piece. She apologized for not having gotten back to me sooner! I assured here that no apology was necessary. I made arrangements to ship the relief to her and thanked her for her business and congratulated her on her acquisition.
Let me be clear, not every effort to follow up will be rewarded with a sale, and even those that are often take more than two follow-ups. At any given time I may have dozens of follow-up efforts under way. In the long run, only a small percentage of them will result in a sale. Because of the small success rate, it's very tempting to become complacent in following up with clients. The stakes are so high, however, that I would argue it is absolutely critical to your long-term success that you put forth 100% of your effort in following up with everyone who expresses interest in your work.
This is an example of a $2,600 sale that I'm convinced would not have happened had I not put forth the effort to send that second email.
As I've mentioned previously, in order to follow up successfully, you need to:
Have a good system in place for capturing your potential client's contact information. We use simple 3″ x 5″ contact cards that we created in Word.
Have a good system in place to remind you to follow up.
Follow up regularly with those who have expressed interest. I suggest 4-7 days between follow-up efforts.
Many artists and gallerists are afraid that they will be perceived as being too aggressive or pesky if they pursue this kind of persistent follow up. If you've done a good job of establishing a relationship with your clients while they were looking at your work, they will usually see your follow up not as an annoyance, but rather as a service.
My client is going to derive enjoyment from this piece for years and years to come. Had I not followed up with her, I would have deprived her of this enjoyment.
There will be times when a client emails you back to say that they are no longer interested. There may even be a client or two who tells you that you've overdone it. That's a price I'm more than willing to pay in order to serve my clients and the artists I represent by being persistent.
If you are in a position to sell art, whether your own or the art of others, I would argue that follow-up is what separates the pros from the amateurs. I promise you that if you will become more persistent in your follow up, you will see an increase in your sales.
How are You at Following Up with Your Potential Clients?
Do you have an experience where follow-up was the determining factor in making a sale? Do you have questions about follow-up? Share your thoughts, experiences and questions in the comments below.