Several weeks ago I asked for your ideas for blog posts. I received a plethora of great suggestions and have begun working on turning those ideas into posts that will appear on RedDotBlog in the coming days, weeks and months.
Today's post comes from the very first suggestion I received. Martha Retallick wrote:
I'm planning an open studio. And, yes, I did buy the Open Your Studio book from the Xanadu store. Would like to see an article on how to make such an event into a success.
With more and more open studio events appearing around the country, this is a great topic. An open studio tour can be a great way to get your feet wet if you're new to the art market, and for established artists it can be a great way to build connections directly with art buyers.
For those of you unfamiliar with the concept, an open studio tour is typically put on by a local art organization. Over the course of several days, artists open their studios to the public. Visitors typically receive a map of the area that shows each of the participating studios. Visitors travel from one studio to the next to meet the artists, see their work and (hopefully!) purchase. With many of these events, artists will share studio space in order to concentrate the event into fewer studio spaces so that visitors aren't spread too thin.
For some artists, open studio events can be an incredibly powerful engine to drive sales. I know of artists who generate most of their annual sales in one or two studio events.
I'm not an artist myself, and I've never participated directly in an open studio beyond visiting one as an observer. Any perspective I give you will be that of a gallery owner who sees great parallels between what happens in an open studio tour and what we do in the gallery to promote and sell and artist's work.
The open studio tour has a lot going for it. It does several things that I consider to be vital in terms of creating sales.
Open Studios Create Experiences
First, the whole idea is to create an experience for potential buyers. While the ultimate goal is to get people to pull out their credit cards, I've found that art buyers are interested in having an experience with their purchase. This explains why buyers will travel hundreds, or even thousands of miles to visit our gallery – after all, they could just as easily buy art from us online. This also explains why people love open studios.
If you think about it, it's almost like a treasure hunt. Participants are provided with a map and then get to plot their course from studio to studio looking for art that grabs them.
Participants also get to meet the artist. Art buyers love this! While it's certainly possible to fall in love with a piece of art for its own sake (this happens all the time in the gallery), it adds a whole new dimension for clients when they can meet the artist.
How to Take Advantage of the Experience Factor When you Participate in an Open Studio
Since experience is such an important element of an open studio, you can take advantage of this by enhancing the experience you create for visitors. Welcome your visitors with wine and cheese or hors d'oeuvres. Find music that fits with your work and play it over a stereo during the event – or even better, have a live musician on hand.
Be prepared to share stories about your art. I've long recommended that artists put real effort into crafting their biographies, artist statements and artwork statements. The beauty of writing these statements is that putting them in writing gives you a clear idea of what you will talk about when showing your work to a client. Written materials are also a great resource you can use in your follow up (more on that below). You will find it tremendously helpful to have worked out which experiences and stories to tell about yourself and your artwork before the tour begins.
What should you include in your statements? Talk about your background – how you came to art. Talk about the process you've developed to create your artwork – an open studio even gives you the opportunity to go a step further and demonstrate how the process works. Talk about where your inspiration comes from.
If you think about it, it sounds like I'm encouraging you to be a performer. Your studio is your stage, and your bio and artwork statements will serve as a kind of ad-lib script that you'll use throughout the event. You should think of the event as exactly this, a performance. Your job is going to be to keep people engaged and entertained throughout the event. It's not enough to hang up some art and open the doors.
Open Studios Give you the Opportunity to Create Relationships
In addition to the experiences you can create, an open studio provides you with an amazing opportunity to create relationships with potential collectors. All of your efforts to create experiences should lead to opportunities to create relationships. The goal is not only to give visitors an experience to remember, it's to give you long-standing relationships with buyers and potential buyers.
How to Take Advantage of the Opportunity to Create Relationships When you Participate in an Open Studio
An open studio will give you the opportunity to shake hands with and get to know your buyers on your home turf. This is an amazing opportunity! You will already know that everyone who walks through your door is interested in art – they wouldn't have gone to all the effort to take the tour if they weren't. Take time to get to know your visitors. Your visitors are going to be an interesting lot, and you'll do well to ask many questions and get them talking about themselves.
Ask where they are from. Ask them how they became interested in art. Ask what kind of work they do.
Don't be afraid to spend time with your buyers. While you don't want to keep someone in your studio if they are clearly ready to move on, don't be afraid to monopolize the time of those who take a real interest in you and your work. Your job is not to make sure visitors have time to get to all of the other studios, your job is to make sure they stay in your studio long enough to buy!
Open Studios Create a Sense of Urgency
An open studio event creates a sense of urgency in buyers. Participants know that they only have the duration of the event to be able to make their purchase directly from the artist. Typically, an open studio event is just a couple of days. Having this kind of deadline encourages potential buyers to act, and this is tremendously helpful in terms of transforming lookers into buyers.
Open studios create urgency in another way as well. Participants will see that hundreds of other buyers are moving from studio to studio. They will quickly realize that if they find a piece they love, they better purchase it right away or else someone else may beat them to it. After you've participated in an open studio event for several years, you'll find that certain buyers will show up at your studio the moment the tour opens because they love your work and want to be first in line to see your latest work
.
How to Take Advantage of the Urgency Factor When you Participate in an Open Studio
Don't be shy about letting buyers know they better act now. If you have someone early in the tour expressing interest in a piece, let her know that she would do well to act now. "I'll have over a thousand buyers through my studio this weekend," you might say, "I would hate for someone else to buy this piece when I can tell you love it so much!"
I would also discourage you from offering to hold pieces for clients during the event. Holds can be an effective way to move clients toward a purchase, and we do use them in the gallery if we've got a client that we can't get to commit on the spot. However, during shows and big events, we won't place holds. It's not fair to other clients or to our artists to have a piece taken out of the market during a time of high activity. If a client isn't willing to make a commitment to purchase now, she needs to know that there is a very real risk that she will lose the piece.
Refusing to take holds may be particularly hard if a good client is asking for the hold, and I'm not saying there can't be exceptions to this rule for your best buyers who have a proven track record of purchasing. If you do place a hold, however, I would encourage you to make it a limited hold – for several hours at the most; you don't want to take a piece off the market during the height of the event. Be sure and get your client's mobile number so that you can call her at the end of the hold time if she hasn't contacted you to complete the sale.
Open Studios Give you Great Impetus to Produce
If you've been following my blog, you know I regularly encourage artists to be more productive. Inventory is the key to long-term success in the art business. There's nothing like an event to encourage you to get into gear and get into the studio.
You want to have your best work on display at an open studio event. Give buyers something to be excited about when they see your work by providing fresh, exciting imagery. If you are participating in an event on a repeated basis, you want to make sure that buyers aren't seeing the same work over and over. While it's okay to have some pieces in the show that haven't sold in previous years if they are great pieces (sometimes you just don't find the right buyer), you should limit repeats to no more than 15-20% of your total show. The rest of the work should be new.
I know that sometimes your best work takes several years to sell – there's a lot of serendipity involved in the art business – you wouldn't want to disregard a great piece just because it didn't sell during a particular event. On the other hand, there's real energy that comes in having a body of new work at an event. We definitely see this at gallery openings, and you will see the same thing at an open studio tour.
How to Take Advantage of the Impetus to Produce When you Participate in an Open Studio
Most open studio tours let participating artists know dates and details well in advance of the actual event. Don't wait until the last minute to throw together work for the studio tour. I would encourage you to set goals for production as soon as you find out you will be participating in the event. Spread your production out over the time you have available so that you can avoid the mad rush at the end (at least as much as possible – there's always a little bit of chaos right before an event).
Open Studios Give you a Chance to Display and Share your Work
In a sense, an open studio is an opportunity to turn your studio into a gallery. As you do this, you'll want to keep several things in mind as you ready the display of your work.
How to Take Advantage of the Chance to Display your Work When you Participate in an Open Studio
Don't overcrowd your studio. I know it's a huge temptation to display as much work as possible. The problem with packing the walls or pedestals with art is that it makes it difficult for a buyer to focus on any individual work. Give your art room to breathe. Try to space art 4-8 inches apart, and don't stack it to the ceiling. Even though you will show less art, you'll find that you actually make more sales. Keep other work on reserve to replace sold work.

Use a clamp-on light from the hardware store to add light if you are coming up short

Put good light on your work. This can be tough if you are in a shared studio space and don't have control over the lighting situation. If possible though, it makes a huge difference to put halogen spotlights on your work. Try and find out what the lighting situation is in advance. It might be possible for you to add temporary spots if the lighting isn't ideal.

Put up price tags. Giving buyers information about the medium, size, and, most importantly, the pricing of your work will facilitate sales. There will be times when you'll have several people in your studio and won't be able to get to everyone – price tags give those you can't get to the knowledge they need to make buying decisions.
Open Studios Give you the Chance to Turn Potential Buyers and Buyers into Collectors
It would be a huge mistake to think that once the weekend is over, so are your sales. An open studio event is an opportunity for you to sell, but it's also an opportunity for you to gather prospective buyers' information so that you can follow up. Many of our sales in the gallery, and many artists' sales at open studio events come after the fact for artists who are good at following up.
How to Take Advantage of the Chance to Follow Up When you Participate in an Open Studio
In order to follow up, you absolutely must be gathering contact information from your visitors. I would encourage you to proactively do so. It's not enough to lay out a guest book and hope people will give you their email address. I would encourage you to actively ask buyers to provide their information. In the gallery, we no longer hand out brochures or postcards. Instead, we let clients know that we would be happy to provide additional information via email. We couch this as a way to save the environment (no more printing!) but it's also a great way for us to be able to follow up.
After the weekend is over, begin contacting everyone who gave you their info with a thank you and images of the work they were interested in. I've written about the importance of multiple follow ups before. I encourage you to contact anyone who expressed interest in a specific piece at least 5-6 times after the event, or until they make a purchase, whichever comes first.
Your first email can be a thank you with an image of the artwork. The second email can be an image of the artwork with a statement about the inspiration behind the artwork. The third email can include an image of the artwork with a pdf copy of your biography. The fourth email can include an image of the work and an offer to show the client the work in her home. The fifth email should be an image of the artwork and a request for the client to let you know if there is any further information you might provide.
You literally can't overdo it when it comes to follow-up. Allow several days between emails, but don't be afraid you're annoying your client; your client will let you know if she's no longer interested.
We Have Two Great Books that Will Serve as Resources For Hosting a Successful Open Studio Tour
While I've tried to outline here some of the key advantages of participating in an open studio, there's obviously much, much more that you can and should know going into an event. As Martha mentioned in her question, we've published a book that will teach you the specifics of creating a successful event. The author of Open Your Studio, Melinda Cootsona has hosted many open studio tours and routinely sells as much as $20,000 worth of art at her events. If you are planning to participate in an open studio event, this book is a must-have.
Click here to learn more about Open Your Studio by Melinda Cootsona
If I might, I would also humbly suggest my book, How to Sell Art. This book contains everything I've learned about the art of salesmanship over my 20+ years in the gallery business and will help you more effectively interact with the buyers you encounter at an open studio event.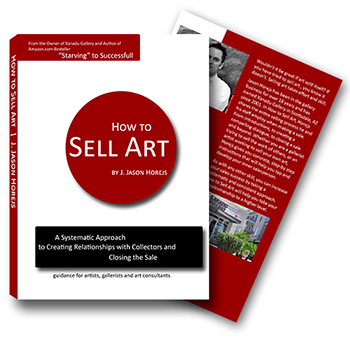 Click here to learn more and order How to Sell Art
What Questions do You Have about Open Studio Events? What Have you Done to Succeed at Open Studio Events?
Do you have any questions about what it takes to succeed at an open studio event? Have you participated in an open studio? What worked? What didn't? What would you share with someone participating for the first time? Share your questions, thoughts, feedback and experience in the comments below!