Photo: Origami Artist Bernie Peyton – Courtesy of CNN.com
Quite often it's easy to get caught up in the excitement and stress behind the sale of an art piece.  Maybe until recently, your main concern as an artist has been to create and inspire but you've become ensnared with the business of becoming a full time, selling artist.  Perhaps the undertaking of the business end of your work has somehow brought you away from the creative nature that brought you into the realm of art in the first place.
Finding the balance between the successes of your business versus your creative zone can be  difficult.  Sometimes it just takes a little bit of inspiration to bring it all back to the forefront.  Gathering inspiration from other artists and some of their hard work is sometimes the best therapy for creating that much needed perspective.
Take a break from the stress of your work and let the beauty of these up and coming unique exhibitions wash over you.  Let it serve as a reminder of why you do what you do.
Uyen Nguyen – Cooper Union Exhibit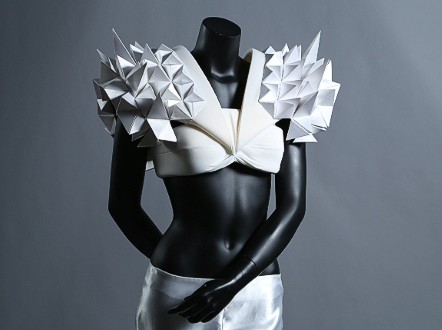 Origami enthusiast and artist, Uyen Nguyen, is bringing her vision to Cooper Union, New York, NY.  After some hard work and a lot of passion, Nguyen has organized the extraordinary origami exhibit, Surface to Structure: Folded Forms.   The exhibit will run June 19 to July 4.  You can view the whole story, by author William Lee Adams, on the artists involved at CNN.com via their style section.
Nguyen is opening the world up to the art of origami and its surprising, vast intricacy.  The exhibit showcases accurate animal replications as well as incorporating some very detailed avant-garde fashion.  Apparently, the use of software is now the norm in creating origami designs.  This is a must see!  Click the link shown above to view more of the works that will be included in the exhibit.
Gary Windogrand
Something else to explore; the MET will be exhibiting a retrospective of photographer Gary Winogrand, June-27 through Sept. 21 this year.  The exhibition is organized by the San Francisco Museum of Modern Art and the National Gallery of Art, in Washington.  Click on the link to view some of his inspiring photos!
This iconic photographer captured some of the most formative years in America, spanning from the 1950s through the 1980s.  His body of work leaves quite the impression and has a sense of nostalgia that's hard to ignore from such pivotal moments in American culture.
Make sure to visit the links placed above to get the full story of each exhibit.  It's great to take a breather once in awhile, look at some work by artists who are adding beauty to the world in their own unique way, and use it to motivate yourself through your own projects.  Gaining a little perspective sometimes brings it all back around!