Have you ever wondered if you have what it takes to show your work in galleries? Have you felt frustrated because you are unsure how to best approach galleries for representation? Do you know what you need to do to prepare your work, your portfolio, and yourself to make an effective approach?
"Starving" to Successful | The Fine Artist's Guide to Getting into Galleries and Selling More Art will answer these questions and many more as you prepare to increase your presence in the gallery market. Written by J. Jason Horejs, owner of Xanadu Gallery in Scottsdale, AZ, "Starving" to Successful will give you pragmatic advice and concrete, actionable steps you can begin implementing immediately to become more successful in marketing your work to galleries.
Gain insight into what a gallery owner is thinking as he or she reviews your portfolio. Understand why the most common approaches artists make to galleries are largely innefective. Learn what most artists fail to do in preparing their work for sale. "Starving" to Successful will change the way you look at the artist/gallery relationship, and will set your art career on a new path. Order today to begin building your success.
"Starving" to Successful
205 Pages – Paperback
© J. Jason Horejs | RedDot Press
Regularly $24.95 (+ s&h)
Order now for only $19.50 (+s&h)

Prefer Kindle?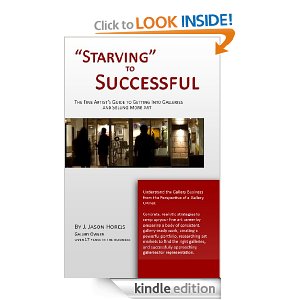 Sample Content
---
"Starving" to Successful Will Teach You
How to create a consistent body of gallery-ready work
What you should do to present your work in a manner that will appeal to galleries
How to price your work
How to organize your work and track your inventory
How to best allocate your marketing efforts and dollars with an eye toward getting into galleries
How to build your resume
How to pick the best markets for your work and how to find the galleries in those markets that would best suit your work
How to confidently approach galleries and what to say when you meet the director or owner.
Much more . . .
Recommendations
Hello, Jason,
I received your book yesterday, and read it in it's entirety immediately. You have provided excellent, practical and insider information that will be extremely useful for me, and no doubt, for other artists as we make our way in this complex world of art. There are several points you made that I will begin right away, and some I will put into action soon. Your book is the best single guide to stepping up from juried exhibits to gallery representation I've seen, and I have looked at many such sources.
Thank you so much,
Rosemary Claus-Gray
www.rosemaryclaus-gray.com
Hi Jason,
I need to thank you for writing "Starving" to Successful. I received it the day before I left home for a needed respite and read it every night. It super charged my ideas so much I would have trouble falling asleep. I found it an easy read, not pontificating, and the best, telling us what doesn't work and the simplicity of what does work.
I had already done some of the things and considered some which you guide us in your book to avoid, saving me time and effort (i.e. brochures, etc). I have recommended it to some artists I spoke with at a gallery Grand Opening on Sat. night, so you may be getting more orders from the Colorado Springs area. My greatest weakness is with computer work, yet I am dedicated to learn how to use it to best advantage. My summer goal was to learn to set up an e-newsletter…and this one I just received from you has reminded me of that goal. Perhaps you will receive one from me by the end of September.
Thank you over and over for your effort and vision to write this book.
Best regards,
Carol Ettenger
Hi Jason,
I've been taking your webinars and was up to pg 128 of your book while I was sitting our Art on South Main co-op. A first time customer came in looking for a wedding gift. Your writing was so fresh in my mind the script went almost word for word, introductions, the handshake, the what kind of work do you do, etc. I invited him to a reception that night and he got worried the items he wanted might sell then, so I did the "may I write it up right now" and put a sold sign on; then he bought an additional one for a second wedding gift! (It was for glasswork, not my pastels; but the sales technique worked).
Thanks for your time, Jason, and for giving back to the artists thru your common sense approaches.
Lynn Chapman
www.LynnChapmanArtist.com
Hello!
I'm 2/3 through your book and it just arrived yesterday. LOVE IT. It's written in a simple, concise, educated way and is not intimidating at all. I already have a new respect for galleries. (I have always avoided them because I thought they kept too much %, and my experience has been only with uber-snooty ones on top of it.)
Ann McGriffin
www.mcgriffinstudios.com