Artists frequently ask me if they should work in series. I recently received the following question:
Is it important for your artwork to be in "a series." I have a few different styles I like to work in my paintings (from bright/multi-colored to abstract/dark to light/muted). What do galleries like to see in artist's portfolios?

Kirsten Reed
If you've been reading this blog for long, you know that I'm a huge advocate of seeking consistency in your artwork, especially work you are going to be presenting to galleries or potential buyers.
Consistency is bedrock for building a following for your art. Thinking about your art in terms of series takes this question of consistency one step further.  Consistency in your work is an attempt to tie all of the work together by being cohesive in terms of your style, subject matter, theme, palette, medium, and presentation. A series is a set of work that is even more consistent, specifically in terms of subject matter and theme.
I want to say right up front that while some degree of consistency is a prerequisite for working with most galleries, working in series is not. Many artists will attain representation based on the strength of their composition and style, and the quality of their work, without creating work that could truly be called a series.
However, if your work lends itself to working in series, doing so can help create an extra level of interest in your work. Showing work from a series in the gallery can draw attention to an artist's work. Some collectors will buy into a particular series and want to have multiple pieces from the series.
So what constitutes a series? As I said above, if you are creating pieces that are very closely related to one another in terms of subject matter and style, you likely have good candidates for a series.
So, for example, Xanadu artist Dave Newman has several different series that he works in, along with a range of other pieces.
Here are some pieces from his mixed media flag series.
And here are some images from his Matchbook Chief series
It's pretty easy to see how these piece make a series. It becomes even more clear that this work stands out as series when you look at Dave's other work on our website. You'll see a range of other work, including some work from other series.
If we look at another artist I represent, Guilloume, you'll see that his work is very consistent, but it's harder to discern series, because the consistency is strong across all of his work. I suppose you could think of all of his work as one large series, but I tend to think of a series as a unique subset of an artist's work, not the body of work as a whole.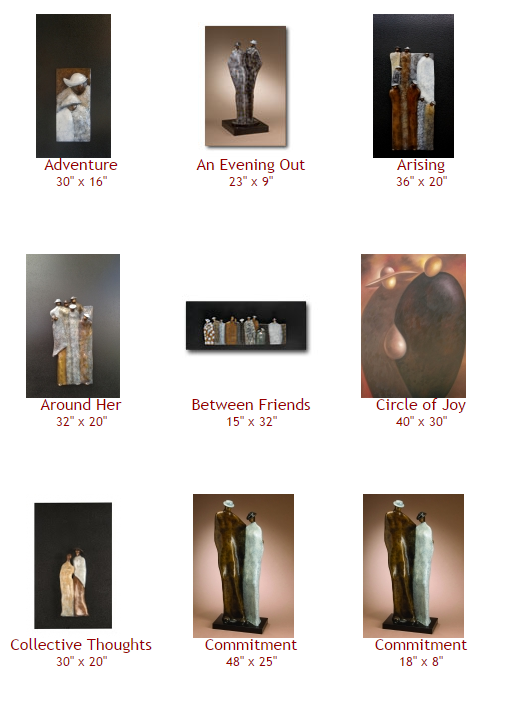 My father, John Horejs, would be another example of working consistently without necessarily having series.
Yes, he does have florals, landscapes, desert scenes, and sunsets, but I'm not sure that simply grouping work by subject matter can constitute a series. In my mind, there has to be something more intentional and specific to tie work into a series.
So, for example, if my father painted the same grove of trees in different seasons, I might consider that a series, whereas just having a variety of autumn scenes feels too loose to be a series.
To a certain degree, this question of what constitutes a series is a bit subjective. I suppose that as the artist, if you call something a series and can point to what it is in the work that makes it series, it's a series.
The Advantages of Series
Creating work in a series can help provide a framework for talking about and promoting your work. Telling the story about what inspired you to create a series, or what it is that ties all of the work together can be a great way to engage your potential buyers.
There are going to be moments in your career where you find inspiration or imagery that is particularly captivating, both to you and to your collectors. There are some images or compositions that transcend inspiration and become iconic. These images may deserve to be explored more than just once, and building a series around that concept gives you the opportunity to delve deeper into the idea.
Series can also provide a marketing opportunity. A brochure or catalog of work in a series can help capture your prospective buyers' imaginations.
By working in series, you can also find a source of ongoing inspiration. Often artists struggle with the question of what to create next. If you are working in a series, that question almost becomes moot. You just have to figure out how the next piece will fit into the series.
Are Series Important to Galleries?
Kirsten asks what galleries like to see in terms of series. This is a harder question to answer. As I said, there are many artists who don't work in series and are extremely successful. While I can't speak for other gallery owners, I can tell you that seeing work in a series is not a prerequisite for representation at Xanadu.
On the other hand, if you've created a compelling series, it may help you catch my attention, just as a series might help you catch the attention of buyers.
How Many Pieces Does it Take to Constitute a Series?
Another question I often hear in relation series is "How many works do I have to have in order to constitute a series?"
Again, this question is subjective. I've seen series as small as three pieces and others with dozens of closely related works.
I've seen artists who will create all of the pieces for a particular series in a brief timeframe, several months or a year, and then move on to other work and never add to the series again.
Dave Newman adds new work to his various series in an ongoing basis, over the course of many years.
In other words, there are no right or wrong answers when it comes to working in series. My advice would be that if the idea of working in series seems intriguing and exciting to you, pursue it. If not, don't sweat it.
Whether you are working in series or not, strive to create high quality, consistent, and compelling artwork.
Do You Work in Series?
Do you create work in various series? How important are series to your creative strategy? What experience can you share about how working in series has helped you generate sales? What questions do you have about working in series? Share your comments, experiences and questions in the comments below.