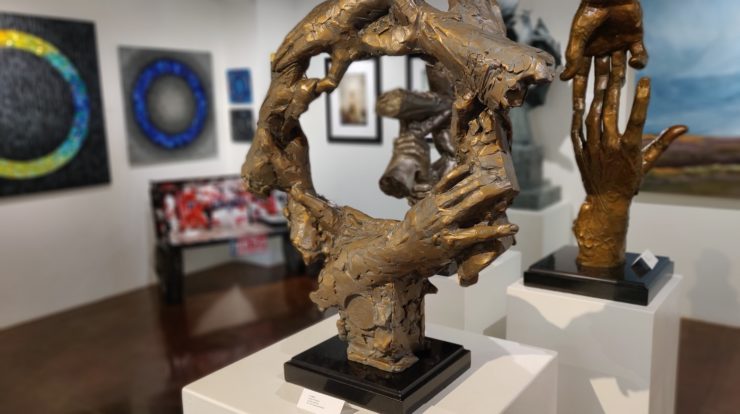 While I try not to let it go to my head, we frequently receive compliments about the display of artwork in the gallery. Positive comments about the display are gratifying because I put a lot of effort into making sure the gallery looks its best at all times. Having spent over twenty years in the gallery business, I have come to believe that the careful display of artwork is a critical to generating sales.
This is only logical – we are all in the business of helping people see art in it's best light (both literally and figuratively). A viewer's ability to experience new art in an inviting setting will have a huge impact on that viewer's interest in purchasing the piece. It is also important to remember that we are asking a high price for the artwork we are selling. The venue where the work is shown should be commensurate with the suggested value of the work.
Let's explore some of the considerations I make when displaying artwork. While I am approaching this from the perspective of a gallery owner, many of the principles will apply to an artist showing at an art festival or hosting an open studio tour.
Space
One of the most important factors to displaying art well is space. When displaying artwork I have found that it is important to give artwork room to breathe. It is also important to give the viewer room to step back.
Often, I encounter a tension between the desire to give art space and the desire to show as much work as possible. This tension is understandable; after all, one of the most valuable commodities I have in the gallery is space. Retail gallery space is expensive, and every square inch of wall and floor space is valuable. It is natural to feel that the wider the range of work we show, the more likely you are to be showing something that will catch an art buyer's fancy. It's not hard, therefore, to understand why some galleries and artists will fill walls from floor to ceiling with art.
The problem with the "pack it in" approach is that it becomes difficult for the viewer to focus on any one particular piece. A packed wall becomes a patchwork quilt of color and texture, and it can be very difficult for the potential buyer to distinguish individual details and see a work for it's own merits.
I would rather display less art and sell more, than display more art and sell less
The density of art in my gallery waxes and wanes a bit, depending on our current show or focus, but I always strive to give art the space it deserves. I would rather display less art and sell more, than display more art and sell less.
To give the work space, I typically hang artwork so that the center of the artwork is at 60″ from the floor – close to the average eye level. Whenever possible I separate artwork by at least 6-8″, and a minimum of 4″, though I may go a little less for a grouping of smaller pieces.
I also try and allow a minimum of 5 feet of space in front of a piece of artwork where a viewer can step up to examine the detail, and then step back to see the work from some distance. I give even more space for large or important works.
if you want to emphasize a piece and add to it's perceived importance (and value), give the piece space
Which brings me to an important rule: if you want to emphasize a piece and add to it's perceived importance (and value), give the piece space.
These same rules apply to three-dimensional art in the gallery. Sculpture shouldn't be crowded into a corner or packed in front of other work. With sculpture, it's important to keep the background in mind. Try not to place sculpture in front of a wall of busy art. Often, We will place a sculpture in front of a wall with no art on it so that the viewer can focus on the sculpture.
Flow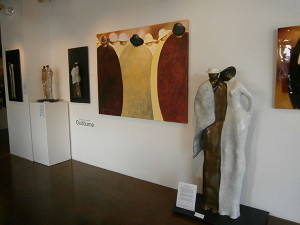 Another important consideration through the gallery is traffic flow. I work to create groupings of art that work well together and invite visitors to move naturally through the gallery. Our gallery isn't huge – the display space is just over 2000 square feet – but the space is L shaped, and I want to have the visitor pulled through the whole gallery. Groupings of work are a good way to accomplish this. A grouping of similar artwork can serve as a kind of narrative, drawing the viewer from one piece to the next. I try to group all of an artist's work together whenever possible, and, further, if the artist has several different subjects, I create groupings of that work.
If you are participating in a show, you should consider the narrative flow of your display space. By grouping works of similar subjects or colors, you can create a narrative flow. I know several artists who begin thinking about the flow of a show before they even begin creating the artwork.
Lighting
The final critical element in display is lighting. Seeing a piece of art with the right lighting can make the difference between making a sale and not.  One of the gravest errors in the art business is lighting a piece inadequately. Too little light and the piece will fall flat – too much and it will become washed out.
Some galleries attempt to block out all natural light by building display walls in front of windows so that they may have complete control over the manner in which work is lit. I can see the advantage of this approach, but I also see disadvantages to blocking out exterior light. The biggest problem with blocking out natural light is that you also end up blocking the view into your gallery or display space. I like the idea of a late-night window-shopper being able to see back into the gallery, or a collector out and about on our artwalk being able to see how packed the gallery is with patrons. I also want viewers to see artwork in a similar light to the light in her own home. Most homes rely primarily on sunlight during the day for illumination.
Our lighting is a combination of natural and artificial light. When I was working to design our gallery space in late 2006 (as we were moving into our current location after having been in a previous location for 5 years) I wanted a flexible display space. We left the gallery open and built moveable walls that allow us to modify the space when needed. This meant that we needed to have a flexible lighting system as well. We ended up deploying a low-voltage, MR-16 halogen cable track system, supplemented by clip cans with IR lights that can be easily moved. This system worked well for us because the art we carry and the gallery space are toward the contemporary end of the spectrum.
Several years ago, we remodeled the interior of the gallery and I eliminated the moveable walls. This allowed me to replace the 10 year-old halogen system and finally make the switch over to LED lighting. LED technology has advanced a lot, and you now get better light with less heat and lower energy usage with LEDs. I use Philips par 30L, 25,000 hour dimmable bulbs. They rate 3000 K for color temperature, and give a warm, crisp light.
When lighting a piece of art, the goal is to create an even light across the surface. Avoid creating hot spots which occur when you have too much light concentrated in one area. Keep as much of the light as possible on the artwork and off the surrounding area. The contrast of the well-lit art and less-lit wall creates drama.
It's also important to avoid creating glare. Glare is created when the angle of the light causes the reflection of the bulb to bounce back directly at the viewer. You control this by deciding on the optimal viewing distance for a piece of art, and then situating the light so that it is at an angle where the direct reflection will be directed outside the optimal viewing area.
What Do You Think?
How important do you feel the display of artwork is? What do you feel are the most important factors when displaying artwork? What have you seen galleries or artists do that has worked well? What have you seen them do that has not worked well? Please share your thoughts, ideas and experiences in the comments below.
Learn More About the Art Business
Be sure and join our mailing list to receive free art business advice from Xanadu Gallery in your inbox!