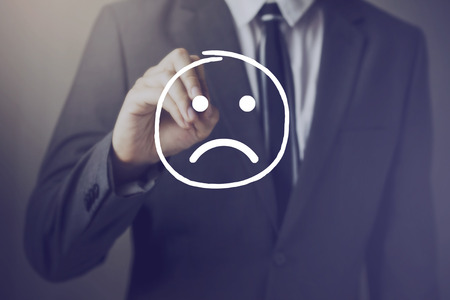 This post is a little hard to write. In order to tell the whole story, I am going to have to admit to a pretty major mistake we made with a potential client. It's painful to admit to mistakes, but we learned some important lessons from our error. Hopefully missteps lead to wisdom, and I would like to share some important lessons we learned along the way. Warning: this is a long story, so be prepared to give it about 12 minutes.
The incident in question occurred several months ago, when we were contacted by a gentleman who had encountered one of our artists at a festival. The client had seen a painting he liked at the show but hadn't purchased the piece. Now the piece was in our gallery and he had decided he wanted to proceed with the purchase.
The client reached out to us via email on a Saturday to ask if the piece was still available. We replied that it was and that we would be happy to accommodate the purchase. There was some negotiating back and forth until a price was agreed upon. We were opening a show for the artist in our gallery the following Thursday, and so we asked if it would be acceptable for us to keep the piece through the opening.
The client responded that he wanted to proceed with the purchase and that it would be fine for us to keep the piece through the opening. The salesperson who was handling the communication congratulated him on his decision to acquire the painting and requested that he provide us with contact information so we could call him to make arrangements for payment. She also gave him our contact information so that he could call us to provide credit card information if he preferred. The salesperson's email gave very specific information about when he might best reach us to arrange payment.
Remember, all of this communication occurred on a Saturday. We didn't hear back from him on Saturday, Sunday, Monday, Tuesday, or Wednesday. On Wednesday the salesperson reached out by email again (we didn't have any other way to contact the client at this point) and asked if the client still wanted to proceed with the purchase. She again provided information on how best to contact us.
Still, we heard nothing.
Now we were presented with a dilemma. The artist's show was opening the next day. We had agreed to a sale, but the client hadn't arranged for payment and wasn't responding to our emails. This would not have been the first time a client agreed to buy a piece of artwork and then disappeared. The salesperson talked to me about the situation on Thursday morning, and I gave instructions to remove the hold that had been placed on the artwork. The artwork had been on hold for five days and we hadn't heard back from the client after several follow-up attempts. I felt that it would be a disservice to the artist to hold the piece back during the opening, when it would have the best chance of selling.
The show opened Thursday evening at artwalk, and, as luck would have it, the piece in question was one of several pieces sold that evening.
Up to this point of the story, I don't feel any regrets about how we handled the situation. I feel that we acted in good faith to complete the sale and that the client failed to follow our instructions to complete the transaction. I don't consider any sale closed until the client has provided payment. We will go to great lengths to accommodate the needs of a client desiring to make a purchase, but in this case we simply hadn't heard anything from the client.
Friday morning we received an email from the client. "Should I drop a check in the mail or would you like a credit card by phone?" he asked.
The salesperson replied,
Thank you for your email this morning. Since I hadn't heard from you before the show, I thought maybe you had changed your mind. The painting sold last night at [the artist's] opening.
We do have some other great new pieces that are available. Here is a link to [the artist's] page on our site: [link]
I'm also including here a couple of great smaller pieces that might be of interest. These are new at Xanadu Gallery, and were not exhibited at [the art festival].
Another option might be for [the artist] to create another painting similar to the one you liked if you would like to commission.
Almost immediately the client wrote back "Wow. Unbelievable. I asked you to mark it sold."
Oh boy! Now we had a problem. Our next communication with the client was going to be awkward and would require great finesse and care. Instead the salesperson wrote,
 I am so sorry. I had emailed you a couple of times about payment and then never heard from you.
A client last night loved it and paid the full [price] for it.
If any of [the artist's] other works the same size appeal, or if you would like to commission a similar piece in the same size, we would be happy to honor the [negotiated] price including shipping.
Please let me know if you would like to go with either of these options.
While I know the salesperson was trying to handle the situation well, and she is usually very good at communicating with clients, there are several problems with this reply.
In the first paragraph, I feel it would have been better to put the responsibility for the miscommunication on us. It's never a good idea to blame the client for a screw up, even if the client might have some culpability.
The second paragraph is the bombshell. You'll recall that there had been some negotiation with this first client to come to an agreed price. To tell him that we had sold it to another client for more money added insult to injury. The fact is that the price the second client had paid for the piece was completely immaterial to our decision to remove the hold and sell the piece. The fact was that this first client hadn't followed through to complete the purchase, and we had made the decision to release the piece for sale.
I would have reworded the reply to say something along the lines of
I am so sorry about the miscommunication. We have a long-standing policy at the gallery that we can't consider any artwork sold until payment is received. We also have a policy that artwork can only be placed on hold for a maximum of 48 hours. I did reach out twice via email to try to arrange payment, but I should have more clearly communicated these policies. I am sincerely sorry about the miscommunication.
This may not have assuaged the client, but now the conversation could have been about our miscommunication and the underlying policies instead of it looking like we had sold the piece of artwork out from under the client.
The client responded,
There is no excuse for the unethical way this is been handled. For you to admit that you can sell a committed painting for a higher price is shameful.
I would never do business with you in the future. As I will encourage all other art buyer to do the same.
You clearly are harming the integrity of this artist.
At this point the salesperson let me know about the emails and asked what she should do. I looked over the emails and threw my hands up in the air. At this point it seemed that it was going to be difficult to rectify the situation. I pointed out some of the things I would have changed in the communication and said I would think about how to respond.
I also suggested that in the future we needed to be far more explicit when following up with a client about payment to let them know what would happen if we didn't hear from them. I also recommended that I review any of these kinds of communications before they were sent to the client.
Of course, hindsight is always 20/20, and communication is a delicate art. I would be a hypocrite if I pretended that my salesperson completely screwed up the situation and that I had never similarly miscommunicated. The fact is that in the gallery business, and, I suspect, any retail environment, there are going to be occasional difficult situations like this one. It's also inevitable that at some point, in spite of wanting to handle these situations in the best possible, professional manner, we're human, and we're going to screw up. If we can't admit that and give ourselves permission to make mistakes from time to time, we're all in the wrong business.
Now I needed to decide how to proceed. My first instinct was to simply let the situation go. It seemed clear that the client was unhappy and that he wasn't interested in doing business with us in the future. I couldn't see a clear path forward. I indicated to the salesperson that she shouldn't respond.
I continued to think about the situation – possibly to the point of obsession – for the next few hours, but couldn't see any clear way to rectify it.
The next morning I received a mobile notification that our gallery had received a new review on Facebook. My heart sank when I read the review from the unhappy customer.
Beware. Very unethical. I bought a painting via email and they asked if they could keep it for a few days because they where having a "Gallery Show." After the show they apologized via email saying they sold it someone for more money. Didn't matter that i had already bought the painting. Not a legitimately run gallery.
I jumped over to Google and Yelp, and sure enough, the customer had been very thorough and had left 1 star reviews with the same comment on both of those sites as well.
The poor review wasn't as damaging on Facebook because we have a number of good reviews. On Google and Yelp, however, this review was one of just two or three. Not only did it bring our star ratings down, the customer's review was the first thing someone visiting these sites would see about our gallery.
I read the review several times and my disappointment slowly turned to anger. I believed the client was making several misrepresentations in his review. I felt it was inaccurate for him to say "I bought a painting via email." He had never provided us payment, and in my mind, you haven't bought something until you've paid for it.
Had we screwed up? Yes, we had. Was he telling the whole story? I didn't believe so.
Now I started to consider all of the approaches we might take to respond to these reviews. My first impulse was to contact my attorney and initiate a lawsuit for slander. I thought that this gentleman had every right to be upset, and to leave a bad review, but not to misrepresent what had happened.
I also thought about replying to the reviews to correct the facts.
Instead, I did what I often do when facing a challenging situation, I Googled it.
There is a lot of discussion online among business owners regarding what to do when you receive a bad review. While some business owners advise taking legal action or responding, I found that a majority advised avoiding both. The last thing you want to do, they suggested, is escalate the situation online where everyone can see the battle. Instead, many argued, it would be better to try and reach out to the unhappy customer in private to try and resolve the situation.
This approach resonated with me. I'm fairly averse to conflict if it can be avoided, and I decided that I would try reaching out to the customer. Even if the attempt failed to convince the client to remove his reviews, I would feel that we had legitimately done everything we could to resolve the situation. I fired up my email and sent an apology.
My staff brought to my attention the unfortunate situation with the [painting you wished to purchase]. I have owned Xanadu Gallery for 15 years, and it has always been our goal to provide superior customer service and complete satisfaction to our clients.
It is clear that we have failed you in this regard and I would like to offer my sincere apology. I am working with my staff to examine the situation to make sure nothing like this happens again. Please let me know if there is anything we can do to correct this situation.
Please feel free to contact me either by email or on my direct line at [phone number]
Jason
The client replied:
The email correspondence I received from your staff can best be described as offensive, unethical, and appalling.
After asking me if the painting could stay in the gallery during a gallery show, and then using the excuse of being able to sell it for more money is unconscionable.
I can't imagine any business being able to operate in such a manner. While I still very much enjoy [this artist's] art, your staff should be ashamed of how they conduct business on his behalf.
I responded:
Thank you for sharing your experience. I've examined the email communications carefully and I agree with you, this situation was handled in an extremely poor manner by us. I am implementing changes in our communication and business practices to make sure this never happens again. While my staff made the mistakes, I must take the responsibility for the poor way we handled the situation. As the owner of the business, I provide direction and guidance, and it is clear that my leadership was lacking here.
Unfortunately, it's not within my power to change what happened, but I would like to again sincerely apologize. I know that we are not in a position to regain your confidence or business, but would you permit me to send you a small token of contrition?
He replied:
Thank you for taking responsibility.
I would be pleased to accept your apology.
[Address]
I proceeded to send him a small work of art, valued at $150, and that was the last of our communication. Within a couple of days, the poor review disappeared from Yelp, though the Google and Facebook reviews remained.
While I had hoped the client might reconsider all of his reviews, or at least update them to reflect our efforts to correct the situation, I wasn't counting on it.
Even as I was communicating with the client, we put into action part B of our damage control plan. I asked my sales staff to reach out to past clients and ask them if they would consider leaving a positive review for us on Google.
My staff was a little reluctant to do this because they were nervous about our existing clients seeing the bad review – an inevitability when they went to write their own reviews. I rejected this concern. I was confident that our clients would feel that the poor review was not reflective of their experience working with us.
We began sending out the following email to our clients:
Hi, ______________,
We hope all is well! Thank you so much for your past art purchases from Xanadu Gallery. We appreciate the opportunity to be of service regarding cool artwork for your collection, and hope you are enjoying it!
Recently, an unfortunate event happened at the gallery, and we are writing to ask you a favor.
We were contacted by a person whom we had never met who expressed interest in a piece at the gallery. Emails were exchanged back and forth, but no money changed hands. We made repeated attempts over the course of a week to contact the client to finalize the transaction and obtain payment. Those communications went unanswered by the client, so we assumed he had changed his mind.
Another client came to the gallery and purchased the artwork.
A day later we finally heard back from the client, who was very upset. Our attempts to somehow remedy the situation were rebuffed by the client, and he posted a very unfavorable review of Xanadu Gallery on Google. We were shocked and dismayed, and at a loss as to how to restore our online reputation.
Would you please consider writing a brief review of YOUR experiences working with Xanadu Gallery? We are hoping that if other potential clients read reviews by happy collectors they will feel confident doing business with us.
Here is a link:
[Link]
Please click on "Write a Review" located toward the bottom of the Xanadu Gallery box on the right side of the page.
Thank you in advance!
Warmest regards,
We didn't send it out to all of our clients at once, instead waiting for the first few to respond to make sure the response would be generally positive. We were overwhelmed by the positive response. Clients replied that they would be happy to help and then left glowing reviews for us. We quickly sent it out to the rest of the clients on our list.
Here are some of the reviews that our clients left on Google:
Xanadu Gallery is a true find in the Scottsdale arts district. The works displayed were exciting and the staff were friendly and very helpful. We have purchased art from many vendors and have never had a better experience than with Xanadu Gallery.
My wife and I purchased items for our properties in Scottsdale and Toronto. The gallery did a difficult install of a set of climbing figures on a 20 foot plus rock wall at our Arizona home, and arranged for the shipment of a fragile piece to Canada.
We were delighted with all aspects of our gallery experience.
---
Xanadu is one of our favorite galleries. We love the variety of artists that they represent and have bought several pieces of art there. We have known Elaine and John for several years and enjoy their enthusiasm for their artists and their art, as well as their professional and ethical handling of our transactions. This is a gallery where you are not just a client but also a friend – and they want to make sure that you find a piece of art that you will truly enjoy living with. I'd encourage anyone to explore this intimate, friendly and well designed gallery.
---
Absolutely my favorite gallery in Scottsdale. I personally have purchased over 12 pieces of art from the Xanadu Gallery over the last 3-4 years !!! My son and daughter-in-law just recently purchased several pieces for there new home. In addition, my sister-in-law, an artist herself has purchased a couple pieces too !! The owners and sales personnel are all so over the top friendly and inviting. Even before I purchased any art from the gallery, everyone treated me like a close personal friend. I love the special events and parties that they hold. There is no high pressure sales. I have taken many of my relatives and friends to the gallery and they too have been welcomed with open arms and they too love the Xanadu Gallery….when in Scottsdale, AZ….it is a must see !!!
---
Xanadu Gallery is a gem. We have recently purchased several pieces of artwork for our home and dealing with the gallery has been a delightful experience. We were unsure as to how certain things would look in our house, and so Elaine and her husband brought the art pieces to our home so that we could view them on site. Once the decision was made, then the art was hung up by them immediately. Such outstanding customer service is hard to find these days. This gallery is passionate about the works they sell, and they have the integrity and service to back up their wonderful collection. I could not be happier.
---
We are frequent clients of Xanadu Gallery and have purchased numerous pieces of art. We have always been very impressed and completely satisfied with our experiences and purchases from the gallery. Jason and Elaine have always been very helpful and wonderful people to have worked with through are many purchases. They have always gone above and beyond to make sure our art purchases arrives safe and sound. We will definitely be coming back to enjoy the gallery!!
---
I have seven pieces of art from Xanadu Gallery. The owners, Jason and Carrie Horejs, are more than just art dealers and consultants, they are trusted friends of the highest caliber. Jason has hung art in our home, and has recommended pieces that work better than what we would have otherwise selected. He is not a salesman; rather, he is a true consultant who values the interest of the customer/client above his own. I am a return customer because of the quality of the people and the art I find there. And the gallery's offerings on the web are astounding!
---
Wonderful Gallery. Discovered them while on vacation, and even though I live in Illinois, working with them has been a breeze and a joy. I fell in love with the whimsical works of Stephen Hansen, and Gallery Director Kristen has been personally assisting me with my new found addiction. I keep going back for more! Hands down, my favorite gallery on the strip.
---
My husband and I have purchased several pieces of art at the Xanadu Gallery. We were very impressed by how helpful and knowledgeable the staff was. Would highly recommend this gallery!
---
An incredible contemporary art gallery on the famous art walk of Main Street in Old Town Scottsdale, Arizona. One of the best and most ethical galleries in the West!
---
Not only were our clients not negatively influenced by the bad review, they sprang to our defense. The response was heartwarming, and soon our overall rating on Google climbed from a 2.7 to 4.7. The bad review is still there, but a new potential client would will hopefully see that the majority of reviews are overwhelmingly positive.
We now request reviews from clients with whom we have positive interactions as a regular part of our sales follow up so that we can continue to build good ratings.
I certainly would prefer that this situation had never occurred, but it would be naive to think our interactions with customers are all going to be positive.  I feel like we are now in a better position to both prevent these kinds of things from happening in the future, and to deal with them if they do occur.
In summary, the lessons learned from this experience are
Always communicate clearly with your potential customers about what is required of them to complete a transaction. It's a good idea to have policies in place that govern your approach to holds and sales.
If a client is unresponsive, clearly indicate that sale is not yet complete and that they risk losing the artwork if they don't respond.
When you run into a disagreement with a client, craft your communication very carefully – never respond in the heat of a moment and say things you may later regret.
Never blame your client for an error or try to shift responsibility to them. If there is a disagreement, look for the ways in which it might have been your fault. In your communication with the client, focus on what you could and should have done better.
Try to be gracious and professional in your apology
If a poor review is left, try and dilute the review by asking your fans to respond. This is far better than responding yourself.
Even better, constantly invite your fans to leave positive reviews on a variety of the social sites and Google. You don't need to invite each client to leave reviews everywhere – you can rotate where you encourage clients to leave their review.
Have you had a bad review?
Has someone left a bad review about you or your artwork? How did you respond? What do you think we did well in this situation, and what could we do better? Share your thoughts and experiences in the comments below.